~ 2 min read
Our First UtrechtInc Meeting
We must admit that we were a little nervous for our first UtrechtInc meeting, exactly one week ago. Our contact person, let's call him John, was someone we had never met before and all his credentials we could find online were somewhat intimidating. However, he turned out to be a very nice guy. After some jokes about the Dutch language capacities of foreign PhD students and expats, we sat down to talk.
First, we explained the concept of our journal – again. Understandable, since John had only seen some rough outlines of our concept and had not been there during the pitch. Yet, we couldn't help but feel like there had to be a more efficient system of informing every new contact person about the journal. If only we were famous; we could give just one interview for a big news outlet and everybody would know what our plan entailed…
At least John was very enthusiastic about the Journal of Trial and Error. Sometimes he was shocked about the current practices in science, which only fueled his desire to help us. That desire was more down to earth than ours though. Every time we suggested providing a service for free, we were met with skepticism. Ideals were nice, but having a startup that would survive the initial phase would be even nicer.
John gave us some concrete advice that we planned to incorporate into the execution of our plans for the coming weeks. Unless it was needed to gain certain funds, we wouldn't become a registered institution just yet. This would save both money and manpower, two crucial resources for early 'startups' (the sole thing our whole board agrees on is how terrible this buzzword is). In addition, we would use the first call for papers as a prototype of sorts. We would treat it as seriously as any finished product, but also use it to inform ourselves how we could better the subsequent calls. We were slowly becoming entrepreneurs. Not to worry though. You can take the humanities student out of the humanities, but you can't take the humanity out of the humanities student.

---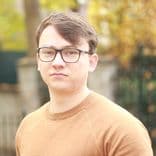 Stefan Gaillard
Co-founder, Editor, Special Issue Editor-in-Chief
Stefan Gaillard specializes in failure, uncertainty, and erroneous claims – both in science and society. He is one of the co-founders of the Journal of Trial and Error and currently works on the special issue on scientific failure in the health domain.